Yesterday i received two of these Kohetsu HAP40 Santoku's from Chefknivestogo.com, a dependable US dealer for kitchen knives.
One of these will go to a Chef i know who has no experience ordering knives from abroad, and the other one will probably go on sale on the Dutch forum.​
As often with Japanese knives the factory edges need some work to get them truly sharp, and these Kohetsu's were no exception.
One was just sharp enough to slice copypaper, the other reluctantly shaved a few hairs from my hand, and both of them had a few tiny burr remnants clinging to the apex.
Now both me and the new owner have zero experience with HAP40, so it will be a bit of a learning journey to finetune the edge into what works best & longest for him.
For it's first sharpening i chose to just leave the factory edge angle of between 17.5 & 20 degrees inclusive (!) intact and just resharpen the existing narrow V-bevel with 3 micron diamond compound on a Paper Wheel (with such a small edge angle this actually provides for an ever so tiny, but just visible burr), and deburr with 1 micron diamond compound on a second Paper Wheel.
With the naked eye it looks like nothing was done to the knife, but the new edge can whittle a chest hair towards the hair point and slice a paper towel clean.
Now we have to find out if the new owner can work with it, and what's especially important; for how long exactly before it needs resharpening.
My guess is that eventually he will settle upon a bit coarser edge, but we will see.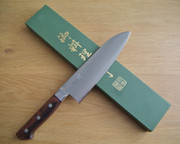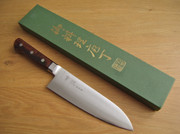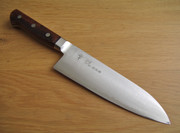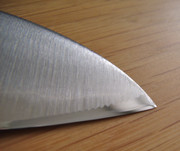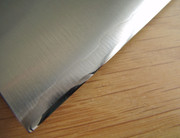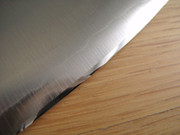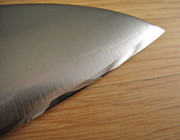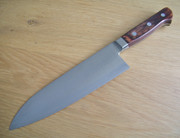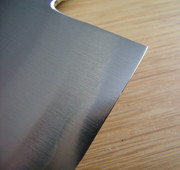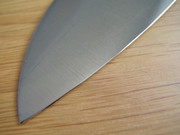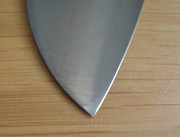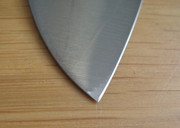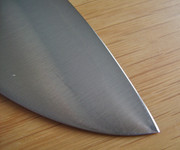 Specs:
Overall length: 29,5 cm
Blade length: 18,0 cm
Useful edge length: 17,4 cm
Blade thickness: max 2.06 mm
Steel: Laminated HAP40
Hardness: 65 HRC
Blade: double sided convex grind with half-sided convex bevel and a narrow V-bevel on top which forms the actual edge.
Edge angle: between 17,5 and 20 degrees inclusive (measured with Tormek WM200 Angle Master)
Handle material: Pakkawood
Weight: 170 grams