Some time ago while surfing the net i found a website with Catra test results for 3 different ceramic knives: two by the well known Japanese Kyocera brand, and one from another (and unfamiliar to me) Japanese brand with the name Forever Company.
Next to various types of ceramic knives the company also seems to make a host of other specialty kitchen knives from various space-age materials:
http://forever-k.com/en/ceramic/
Anyway, the 3 ceramic knives were tested on wear resistance, and the (much) cheaper Forever knife seemingly won by quite a margin regarding that aspect:
http://socialcompare.com/en/comparison/ ... ue-mpo3v9w
Now i know that wear resistance does not equal edge holding (especially with ceramic knives), but who knows ?
Maybe they're on to something.
Since i sharpen ceramic knives for others from time to time (and the two tested Kyocera models have always ranked the highest for me in the edge holding department so far), i became a bit curious about the Forever knife.
So i ordered the exact SC-16WB model that was tested from a Japan based E-Bay dealer for 45 US dollars including shipping to the Netherlands, and yesterday it arrived: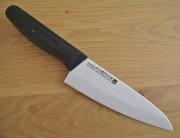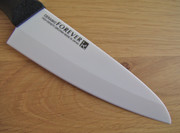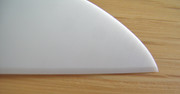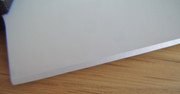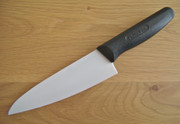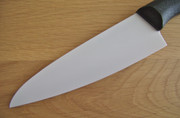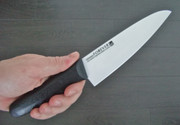 Specs:
Ceramic knife for right handed use (non-logo side is flat, while the logo side has a wide saber grind and a 70/30 edge
Overall length: 10.9 inch (27,6 cm)
Blade length: 6.3 inch (16,0 cm)
Blade material: High Density Zirconia
Blade thickness: 1,43 mm
Thickness behind the edge: 0,61 mm
Factory edge angle: 26/27 degrees inclusive
Edge finish: rather coarse with lots of bite (my estimate: somewhere around a 1000 grit)
Sharpness: Can shave my arm- and leg hair with the growth, not against it.
Not a single microchip can be felt using my nail, or seen through my Victorinox magnifying glass
Handle material: black plastic
Weight: 83 grams
I'm going to use the knife the coming months for standard kitchen duty, mostly to see how that rather coarse factory edge will hold up.
When the time comes i will experiment a bit with resharpening and write about my findings in this thread.