I've been asked to do a tutorial on how I wrangle a working switchblade out of a mikov kit. Over the next week or so, I'll be posting a knife in the making with pic's and explanations. this will be a thread that will be saved and looked at in the future by new members, so, please ask any questions you may have, or offer your input as we progress. For simplicities sake, I'm making a cocobolo scaled knife. This is an older kit and only has one spring. the newer kits have two. (we'll discuss that later) Also, I don't like the pins that come with the Mikov kits, I prefer brass and have modified this kit to accept my pins. The process remains essentially the same as originally designed.
Let's start....
First, Find a set of scales that are at least 1 1/4" x 4 1/4" and 3/8" thick. Anything larger is fine, but the bigger they are, the more sanding you'll need to do. no big deal, because this is a fun project, and the more time spent, the better
Member "Springmesser' suggested the cocoblo scales, so off we go.
.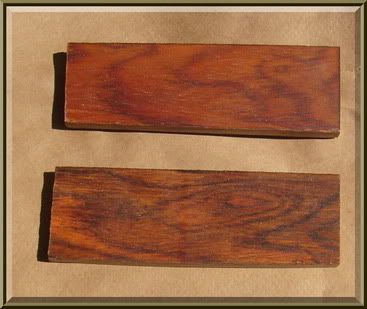 .
You'll want to make sure the scale material is perfectly flat. Mark with pencil which side will face the liner so there is no confusion later.
.
Here are the ingredients. (I switched the nickle pins for my brass pins)
.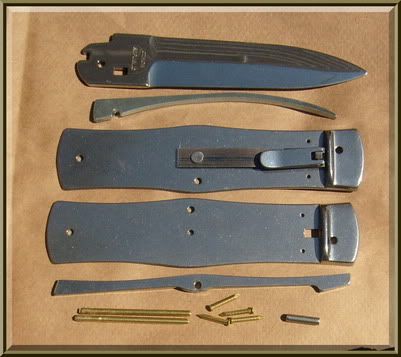 .
Let's make a mark on the liner side of the top scale. This is where we need to recess the scale to slip over the spring. I trace around a flat file about 2 1/2" down the scale.
.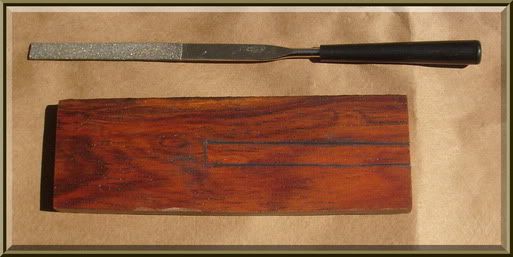 .
I'm going to be using a dremel router bit and carbide cutting tool to make the channel. I use a drill press to do this. Go slowly and let the bits do the work. A drill press is designed for downward pressure, not sideways! If you don't have a drill press, use a dremel and take your time.
.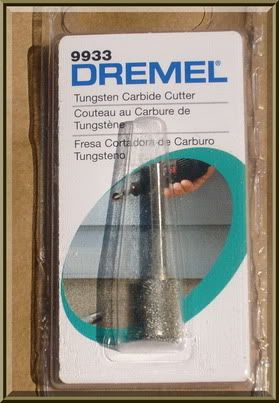 .
Here's what you want the underside of the top scale to look like. Go just deep enough to house the spring. About 1/8 inch should be fine.
.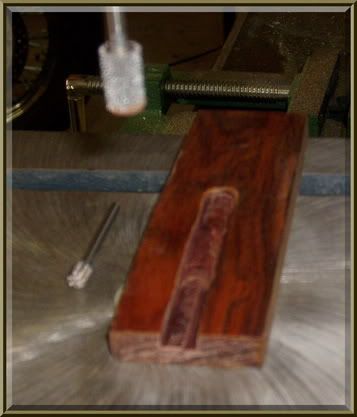 .
set the scale on the liner and make sure it seats properly over the spring with no binding or gaps.
.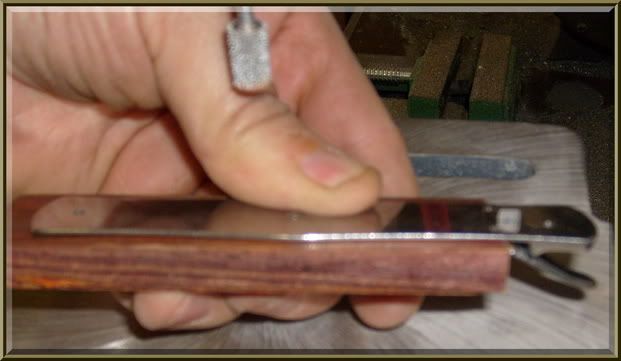 .
Next, turn the top scale over and measure down 3/4" from the top. We'll be taking this material out with the carbide cutting bit. This needs to come out so the spring can properly rise and activate the blade.
.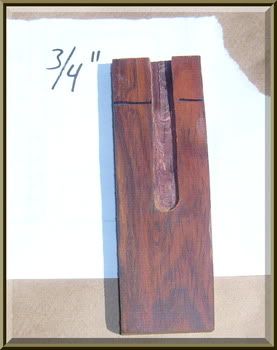 .
And here's what it should look like.
.
.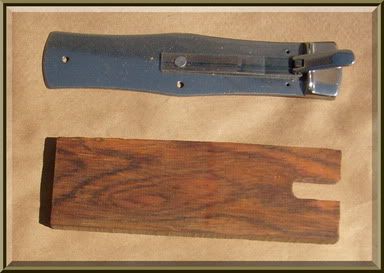 .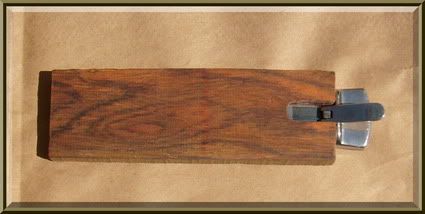 I'll stop here for today. Please ask any questions or offer your input.