Disclaimer: I know the Exiled Cutlery is a controversial business, but I want to do a honest review with no sides taken. I don't know the guy who made this knife, neither do I know the guys who hate him. So if you expect drama, there won't be any of that here.
Well, here it is from all sides, open and closed: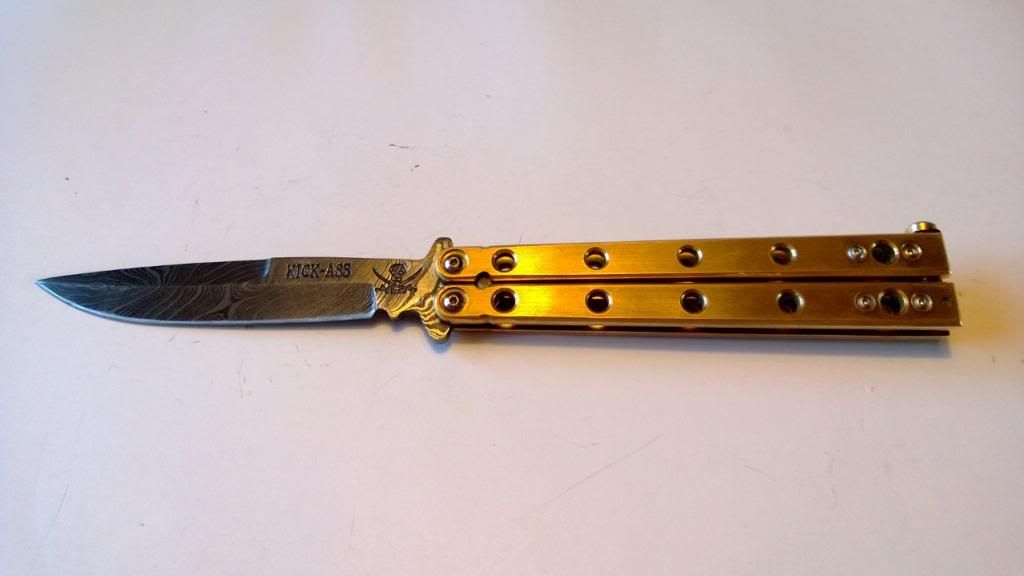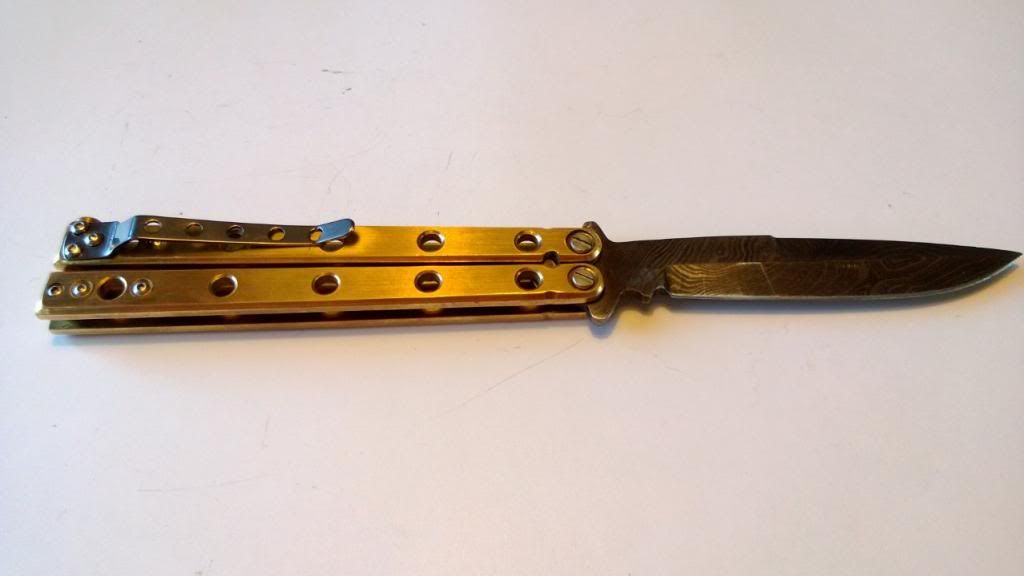 Note, the scratches in the blade are my own. It came out clean and with
very
thick oil on it.
Brass handles in sandwich construction, layered 1095 carbon steel blade and stainless steel pocket clip. Everything attached together with double sided screws. The latch is brass and has a small rubber washer on the top that makes the latch fit tight when the knife is opened or closed. I've actually heard that these were originally sold as assemble-yourself kits and the piece I'm holding in my hand looks and feels the part. Everything is unpolished and several finishing touches you see in factory produced knives of this price are lacking. Still, everything is assembled solidly and there is not much play anywhere so it also flips beautifully.
The blade comes out of the box (or plastic cylinder) with crap sharpening, but as its carbon steel it didn't take much to sharpen properly. Just so you know, for me "properly" means the knife has to be able to slice cleanly through normal copying paper and has to be able to bite into a thumbnail under the knives own weight. So it means really sharp. It also keeps sharp pretty good. After sharpening it I actually tried to purposefully dull it by drawing the edge along pieces of brass, the handle of my pig-iron kettle ball and a large bar of stainless steel. There was no damage to the blade and it came out almost as sharp as it started. I also tried to bend the blade between pieces of wood, holding the handle far back just to see if the handle fittings would loosen or the blade would bend. No effect on that one either. I saw a review where someone had dulled the blade by cutting a cradboard box. I don't know, maybe cutting fabrics is worse for it.
Now, I did watch a couple of other reviews from youtube beforehand and they really were sharply divided. Some said it is basically a good knife, some say it's a fake piece of shit. There were also three claims that I'd like to address here.
It is not Damascus steel, it's a fake:
This claim, I'm afraid, is wrong. The blade shows the layered (Damascus) pattern from all sides, front and back, all the way down to where the handles are attached. You can also feel the pattern if you slide a nail down the flat or the back of the blade. When testing the blade I sharpened it enough to actually remove quite a lot of material from the edge and looking at the newly sharpened edge with magnifying glass I could see the pattern continuing there. I don't know any cheap ways to make a fake layer pattern that feels correct and continues under the "skin" and factory-made bars of layered 1095 isn't that expensive nowadays. Faking something like that would probably cost a lot more than just getting a cheap piece of layered 1095 for a real thing, so it makes absolutely no sense at all.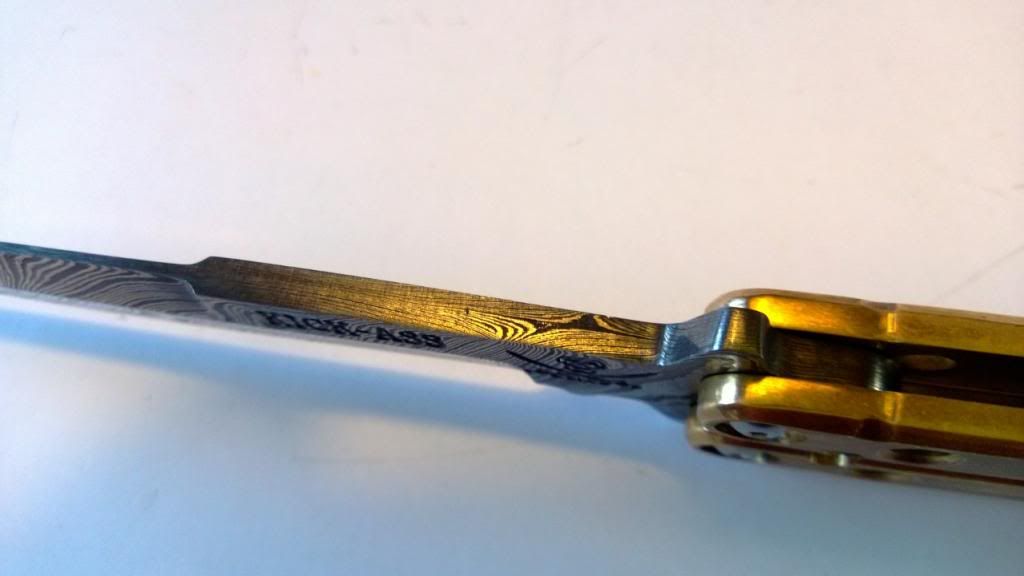 It's a piece of shit:
Well, this depends a LOT on what you want of a knife. If you want a shiny toy that fits with your iPhone, then yes, I guess it is a piece of shit. If you want a no-nonsense, unpolished tool that fits with your Harley chopper then you'll love it. If you intend to use the knife a lot and actually own a screwdriver this knife also comes with the option for easy do-it-yourself maintenance. It is easy to disassemble and you can fasten the screws as tight as you want to fit your own flipping requirements.
There devil, I suppose, is in the details here and lot of the details certainly look unpolished and unfinished. See for yourself: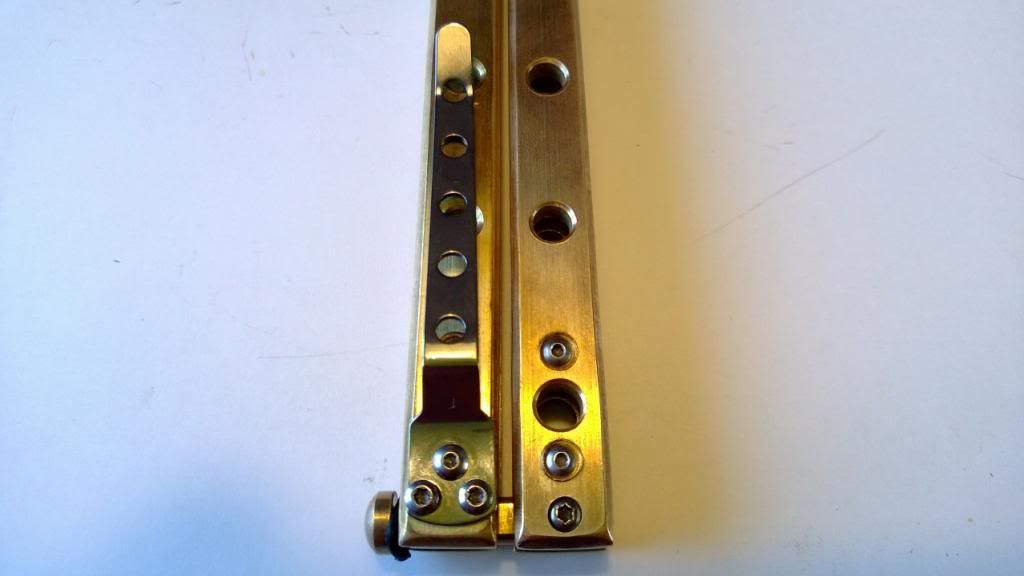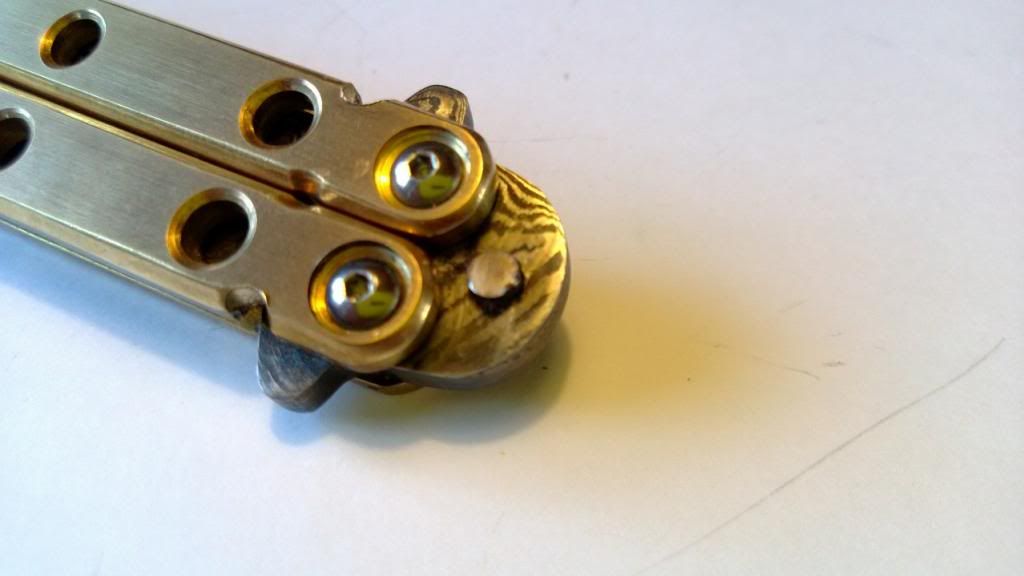 It's a fake Benchmade clone:
Nope, not really. Would be if they claimed to be Benchmade, but the ECC stamp is quite different. Would be if they asked the same prices as Benchmade but these are nowhere near. You can buy a fistfull of these for the price of a genuine Benchmade. It isn't a clone of any of Benchmade models, neither does it claim to be a Benchmade. It is a real knife and good enough construction and materials so it can be used pretty much for everything the more expensive ones can be used.
It's made of chinese parts:
Maybe it is. Can't say. Frankly, I'd care more about where the parts come from if the knife performed badly in use. But it doesn't. It flips better than cheapos and it cuts better than cheapos. It also stands to abuse better. If it is assembled from chinese parts, then they sure did it better than the guys in china who assemble knives from the same parts.
Too Long, Didn't Read Version… or, all the important questions:
Can you flip it?
Yes you can. The action is smooth and fittings are very good.
Is it pretty?
No.
Does it fit with my iPhone?
Absolutely not.
Is it sharp?
Not out of the box it isn't. The sharpening was not finished, but with as few as half a dozen swipes with a diamond sharpener at both sides I could trim my nails and cut a single sheet of paper cleanly.
Can I open a wooden ammo crate and then cut open the soft-metal ammo containers with it?
Sure you can.
Does doing it ruin the blade?
No it doesn't. The steel is of good quality, the blade is thick and the handle fittings are tight enough to take the abuse. Though as with any carbon steel blade you might have to re-sharpen it if you intend to shave with the knife.
What is the single best thing about the knife?
The blade. I know it comes out of the box sharpened like shit, but it is fine material and doesn't look too bad either. You can sharpen it razor sharp and it keeps the blade as well as any carbon steel even when I purposefully scratched it against brass, pig-iron and steel.

What is the single worst thing about the knife?
The latch. The mechanism is very clever as it uses a small rubber washer to fit the latch the tight and there is nothing really wrong about it. However, as I carry knives for use as tools and do so many times quite removed from the nearest store where rubber washers are sold I'm a little worried of what I would do if the washer broke somewhere out there…