The story of this knife actually begins in July 2018, when I seriously underestimated the distance from my hometown in Western MA to Portland, ME. The NCCA was putting on a show in Portland for the first (and in hindsight probably the last) time, and by golly I wanted to hit it up for the inaugural date.
What I expected to be a 2.5 hour drive turned into a 3.5 hour marathon and it wasn't until I saw the small size of the show itself that I began to really curse the drive back that awaited me. There were perhaps a dozen tables there, tops... with a grand total of perhaps three autos, tops.....
The only two Italian picklocks at the entire show were under glass at a perpetually un-manned table, and sadly I never got to see them. The third and final auto that I was able to find was a Mikov -- the older type with the single spring -- grouped with a huge selection of more artistic-looking non-auto Damascus folders. The table was manned by an awfully kind gentlemen who supposedly runs some type of cutlery museum somewhere in upstate New York. After about 30 minutes of shooting the breeze about knives, I went to check out the few other tables there were left to see, as there were others behind me waiting to talk to him. About 15 minutes later, thoroughly disenchanted with this show, with the exception of the table with the Mikov, I decided I wasn't going to drive a total of 7 hours to not buy
anything
. So I went back to counter his original price of $60 with $50, and just like that, the Mikov was mine. Only once I got to the car did I notice the crack in the basic cheap ABS scale...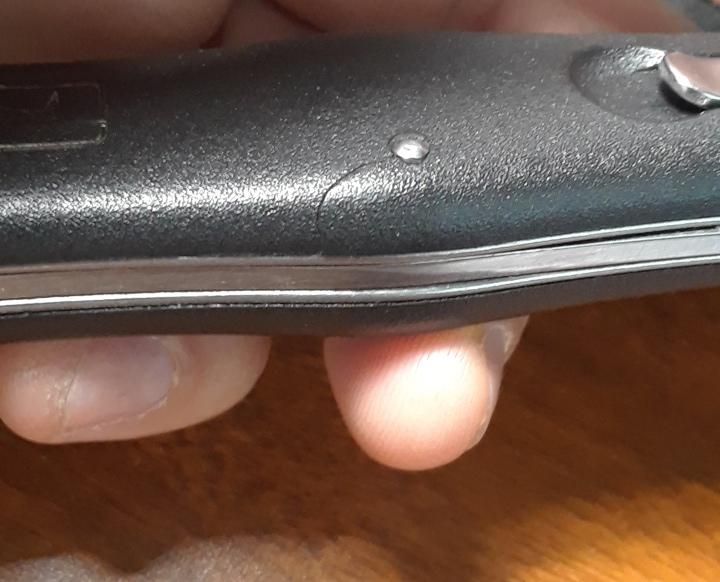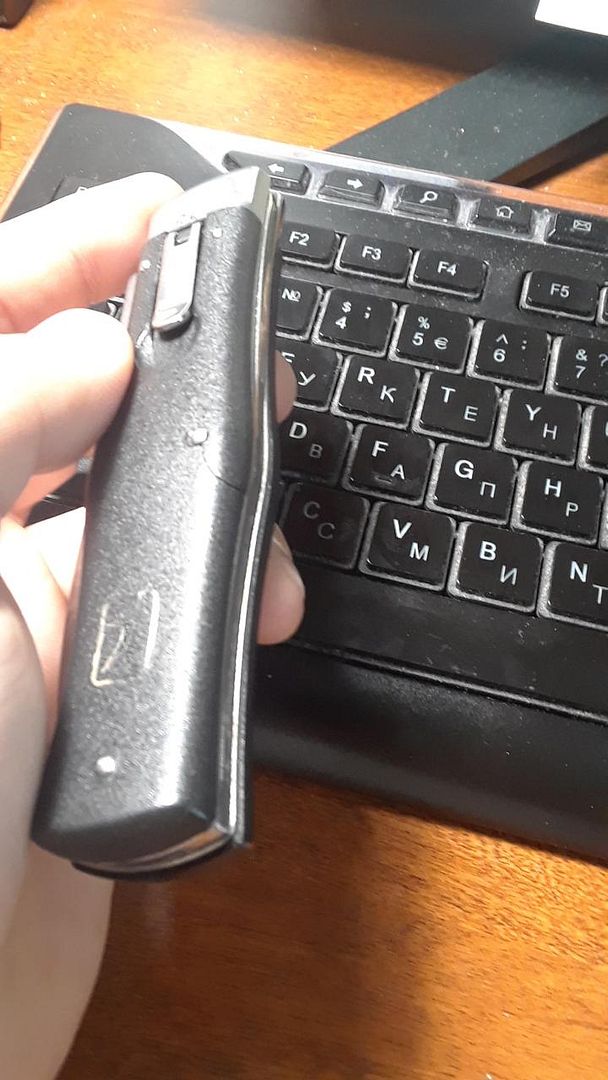 Wanting to forget the entire experience, I then proceeded to toss it into a side compartment of my backpack, and hit the road.
Fast-forward nigh-7 months later, and I am making my way through airport security in Hartford, CT on my way to the Gator show when the same backpack is pulled from the screening line, and a security guard wants to speak with me.
"Anything sharp or pointy in your bag, sir?"
"I've got a razor."
"I'm not talking about a razor, buddy. What's this?"
She pulls out that damn cracked Mikov out of my bag and I get in about a year's worth of cardio in 2 seconds flat. I told her I was genuinely sorry and that I totally forgot that it was in my bag. It was, after all, the truth, not that I expected her to believe it. Nevertheless I was entirely stupefied at the fact that I was not already being thrown to the ground and cuffed, never to make it to Gator. Likely never to fly again, perhaps. I told her to just keep the knife, and that I was again terribly sorry. She looked at me, looked at the knife and said "Sir, this looks like an awfully nice knife... and there's a store just before the security check that mails things like this... are you sure you don't want to go back? You'd just need to go through security again..." Still in shock at not already being airlifted to prison, I told her to keep it again. She said "well.. if you're sure... say how does this even open..?" At that point my mind goes on auto-pilot and I blurt out "You know, maybe I
should
mail that..." She then proceeded to walk me to the security exit and handed me the knife back. "Once your done mailing it, go ahead and go through the 'priority' line, that way you won't have to wait all over again!"
It cost a total of $14 to mail it back to MA. Great, I thought. A $50 mistake turned into a $64 investment. Like hell if I'll be able to re-sell it for comparable money with that cracked scale. I made myself feel better by reminding myself that I could be in jail right now, and that the $14 shipping charge should be the least of my worries. Besides I still had a plane I was lucky enough to be able to catch. Still in shock at being able to fly on this day, I re-screened and made it to the terminal.
Strangely, the Marios I bought at Gator actually beat the Mikov home. Strange how the USPS works sometimes. Anyway, after telling some folks about my experience, it became clear that this "bad luck Mikov" was, in fact, really, really
good
luck. I then proceeded to look into re-scaling the piece. First I asked David at Mikovknives.com if I could send it to the Czech Republic to get some dark horn put on, only to hear that this repair wouldn't be economical and I'd be better off buying a new knife. I then went about finding someone stateside who might be able to re-scale it, and a fellow at Gator told me about someone named JTK who does a lot of custom work for them. Well, I came on talkblade and PortlandMike told me who he was on here, and the rest is history. David of Mikovknives supplied the walnut scales, and Jim put 'em on and sanded them for me... with Nickle Silver pins I might add... as well as a total replacement of the pivot pin, also in Nickle Silver! What a treat!
TL;DR in a strange twist of events, this generic, cracked, bad-luck Mikov turned into a good-luck charm and a quite handsome piece in its own right! Well, it's either good luck or I just had a guardian angel over my shoulder; maybe both!
So here she is, the final product- some top-notch re-scale work by JTK!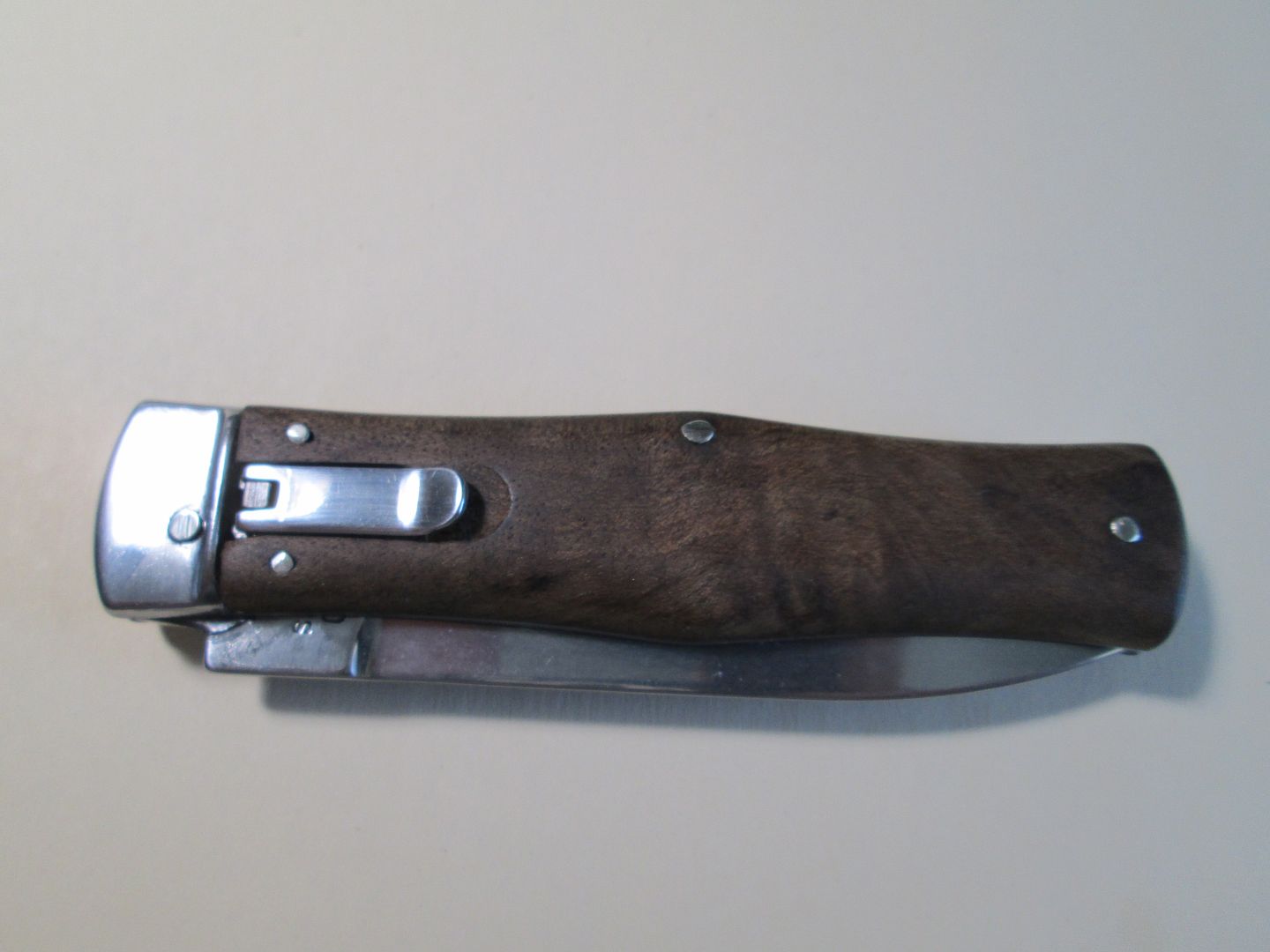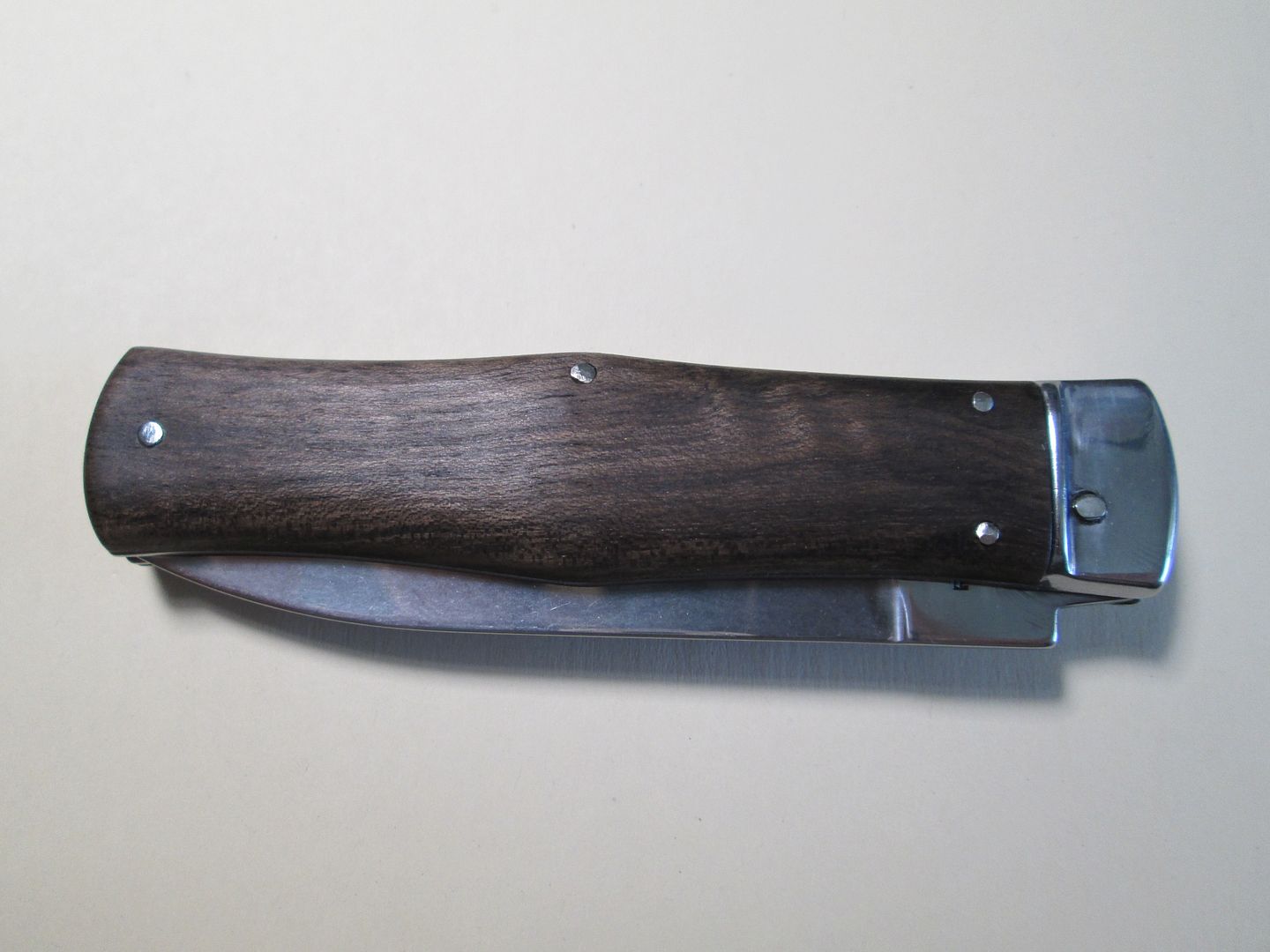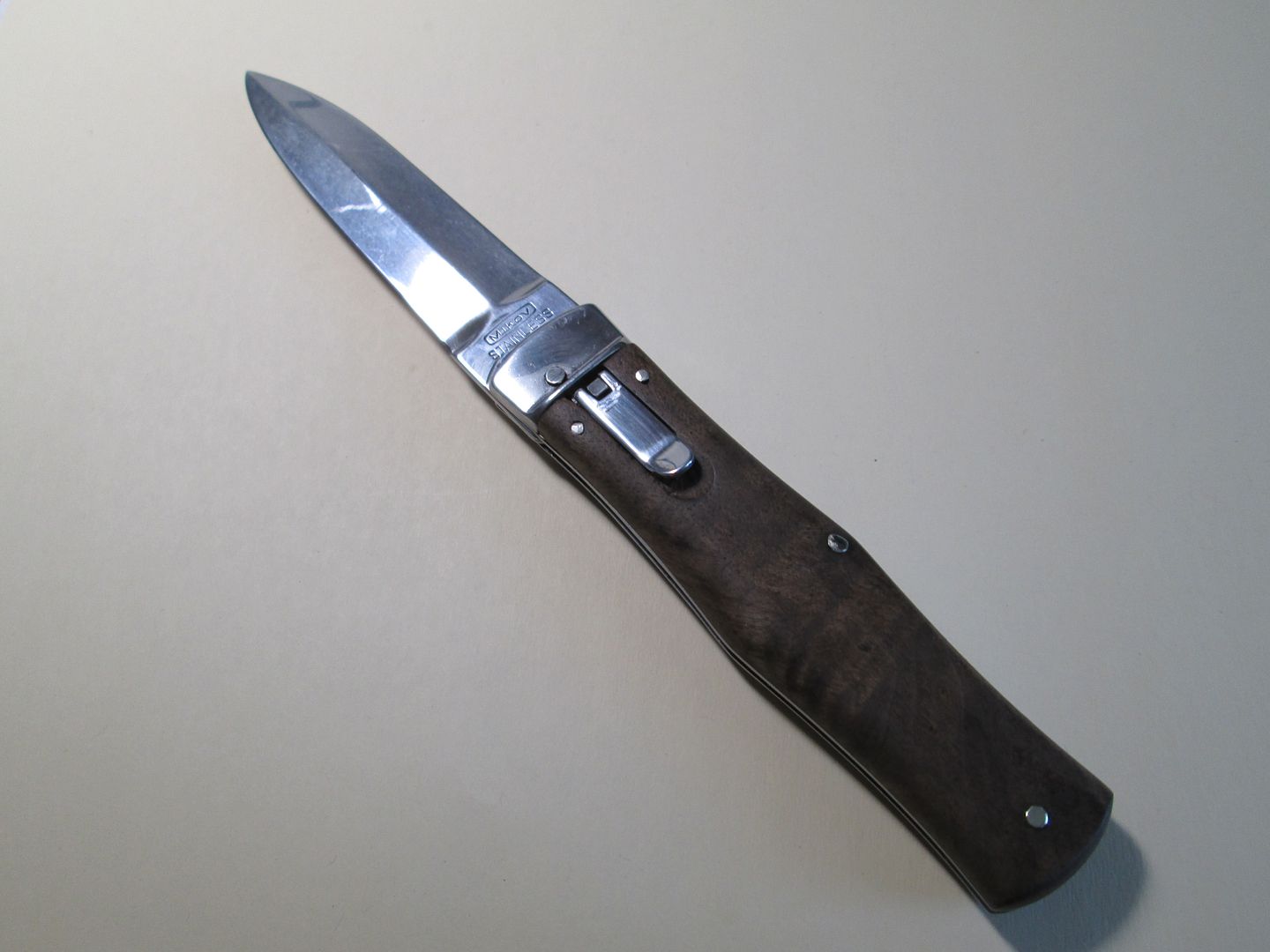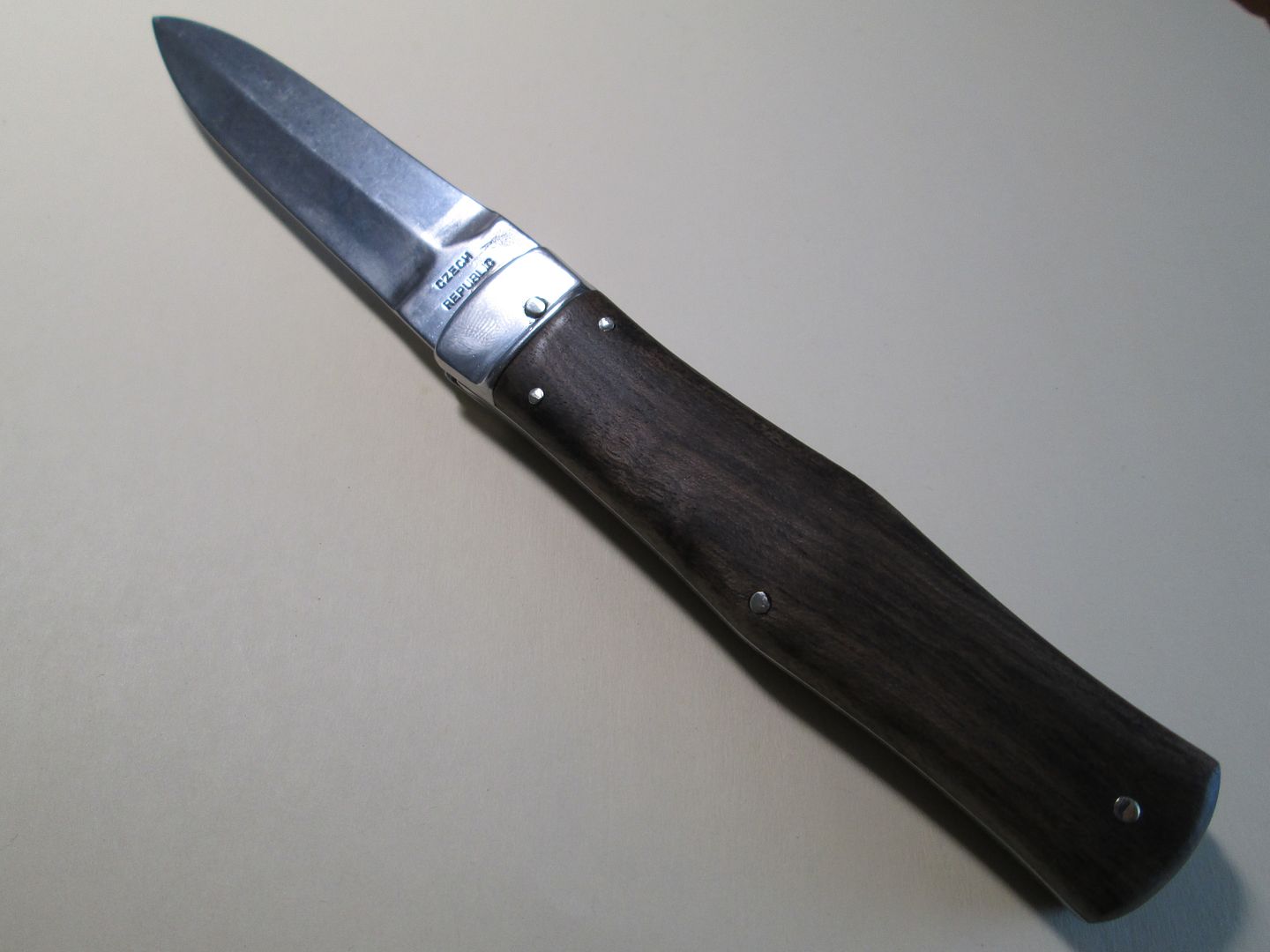 Thanks Jim, Mike, David, and the kind security guard who didn't arrest me. And thanks to everyone else for reading,
Luke of Mass