Was just poking around old posts and noticed I've been pretty remiss in posting over the past year. Been a lot going on so I sort of got out of the habit. I'll try to bring things up to date here. In my defense I haven't been very active of late so there isn't a whole lot.
First up is an AGA 13 from the 2002 run produced by them. I don't have a COA for the knife so I'm not sure if it's an original from the run or a copy but either way they are by far my favorite 13's.There have been some posts indicating that some of the pieces suffered from poor built quality but of the 14 of them I have there isn't a clunker in the bunch. Build quality and material selection on all that I have is top notch.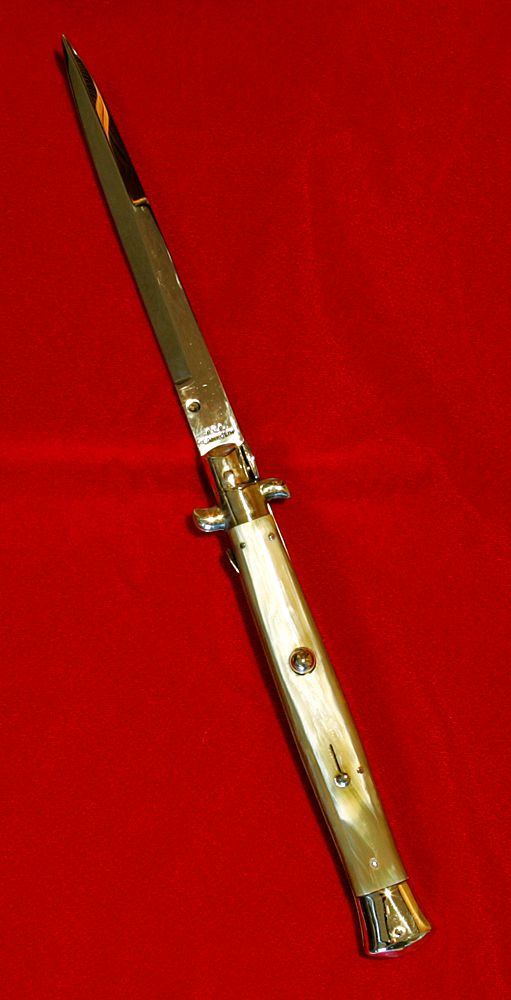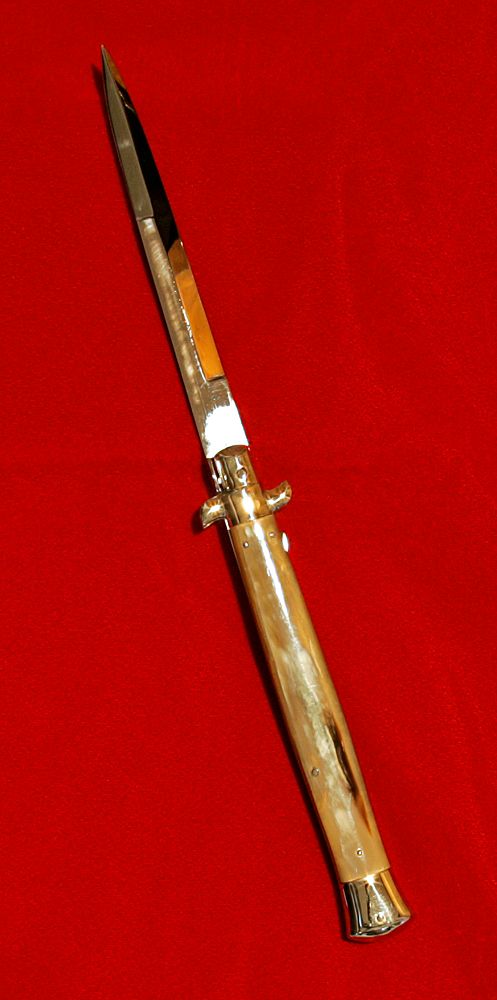 Next up is a no name Kriss I picked up from the SD Auction that I went after just for the scales. It's a 13 with a 4mm blade and back spring with nickel silver bolsters. It's a modern swivel bolster which aren't very high on my list these days but this one is a well done piece. Heavier than the 3mm examples and the scales have been contoured to match the curve of the bolsters (an aspect that I consider the be an important indicator of quality) in modern knives.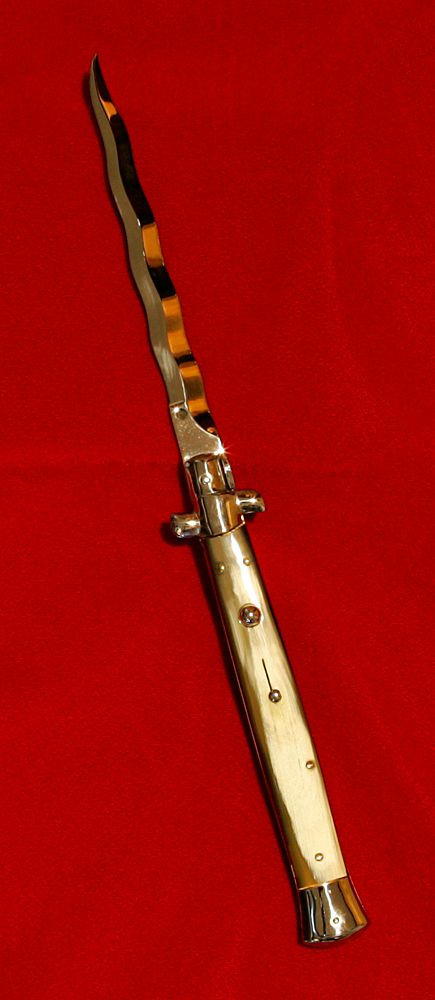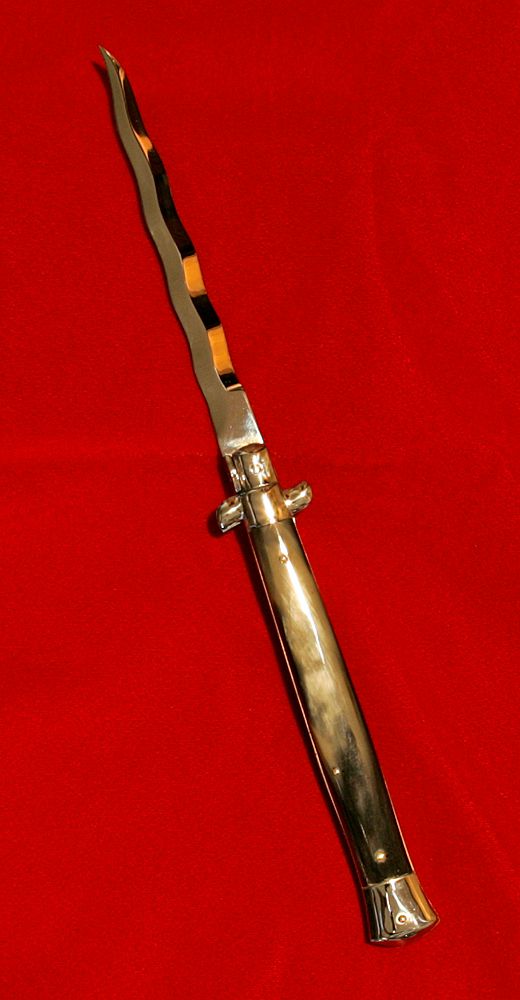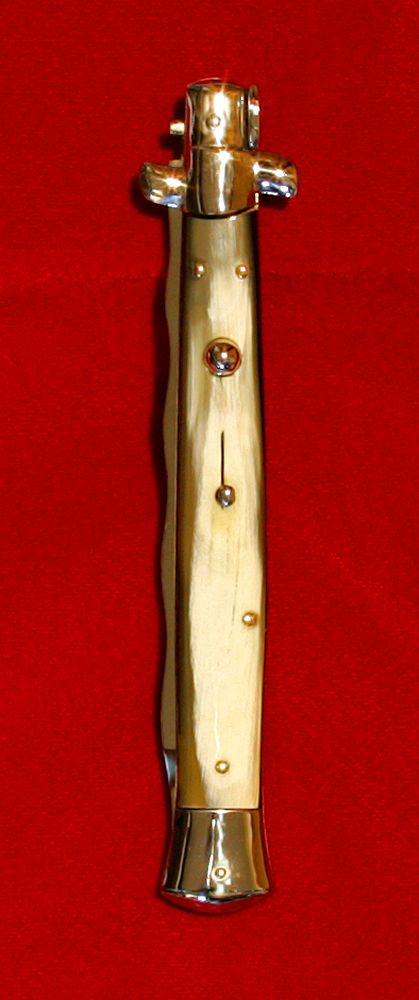 Here's a 13" Wandy I picked up at the Oregon Knife Show last April. It falls into the transitional category with D stamped liners, a short throw safety and two piece kick spring along with the tang stamp. It's a 5mm blade and back spring and has the weighty feel that's so typical of the knives that fall into that genre. For whatever reason they just feel more solid when you pick them up.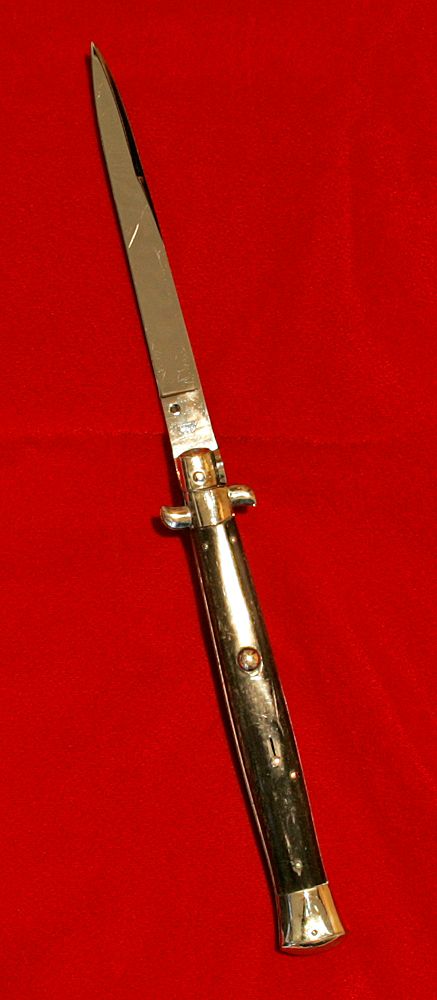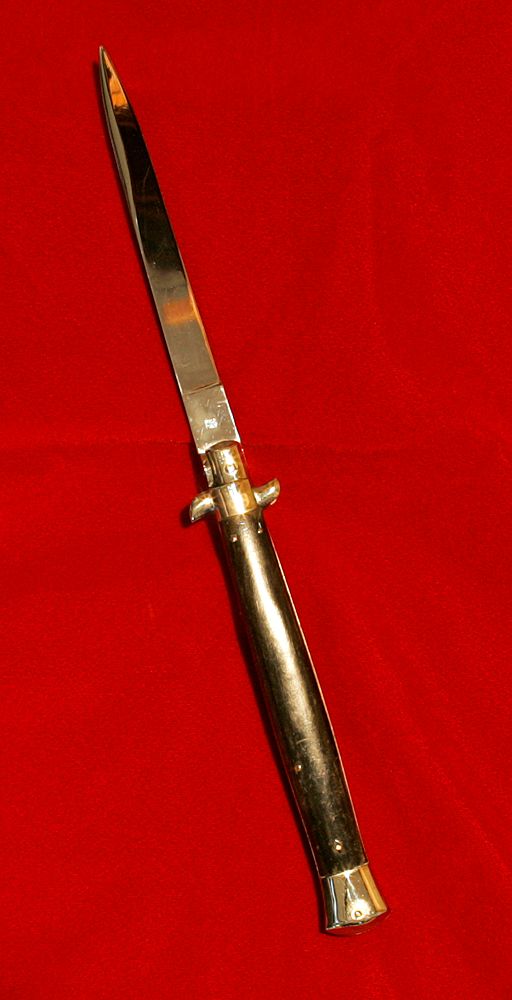 Another acquisition from the Oregon show last year was this Walt's 11" Abalone swivel bolster with his 5mm blade and back spring. This one has one piece liners on the swivel side of the knife rather than the more common unlined or two piece liners.
As is always the case when I try to photograph Abalone the photos don't do the material justice.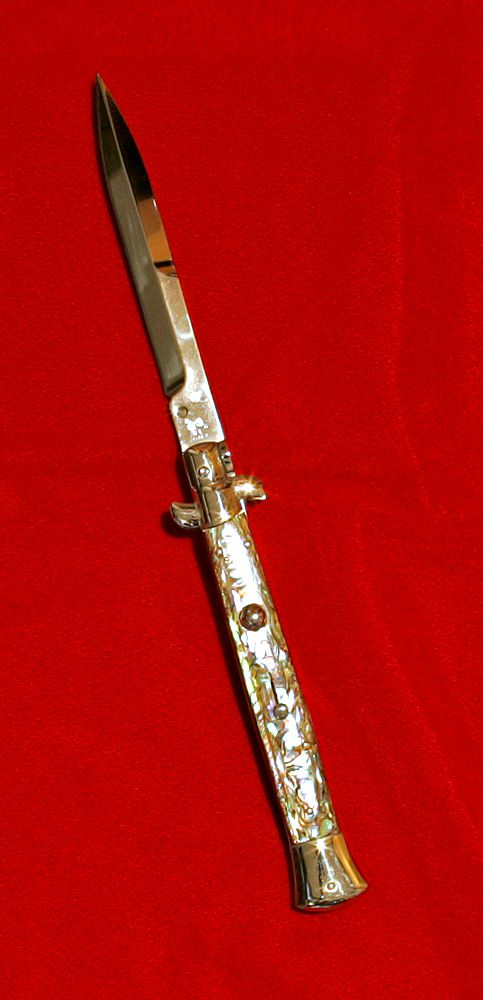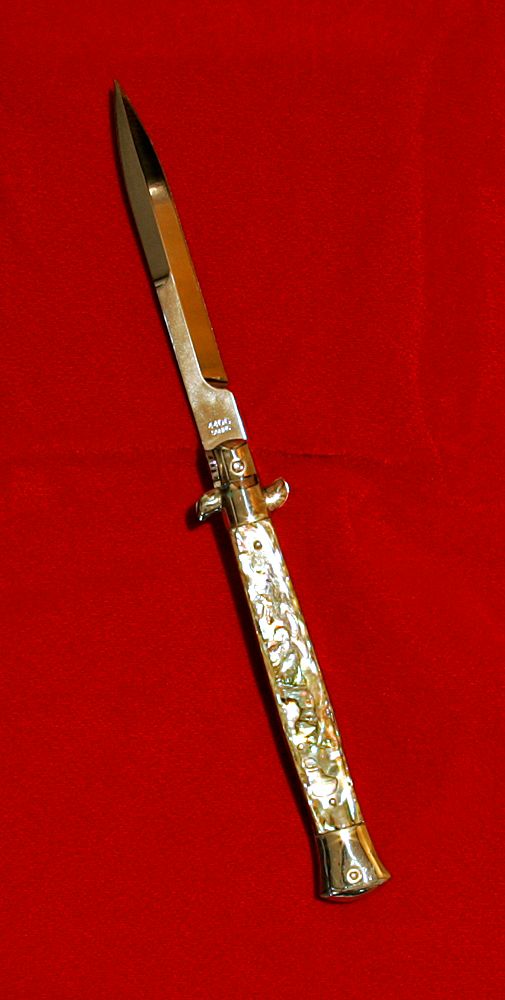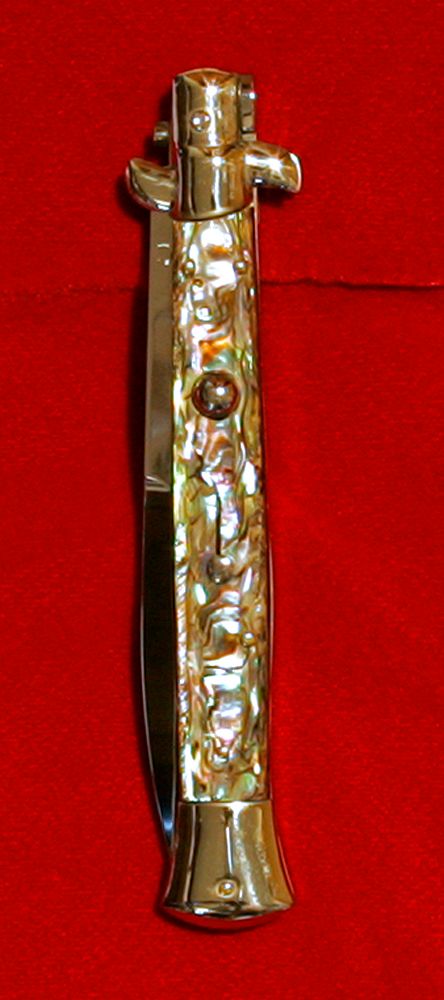 Right up there with the highlights for my year was the acquisition of one of Renzo Pascatto's 11" Wasp 5mm Pick Locks. He always turns out absolutely top notch pieces and his build quality and materials are, to my mind, as good as things get in the modern world of stilettos. I have a number of his pieces and they are all great. I collect these things more as art than anything else and I'm proud to own them.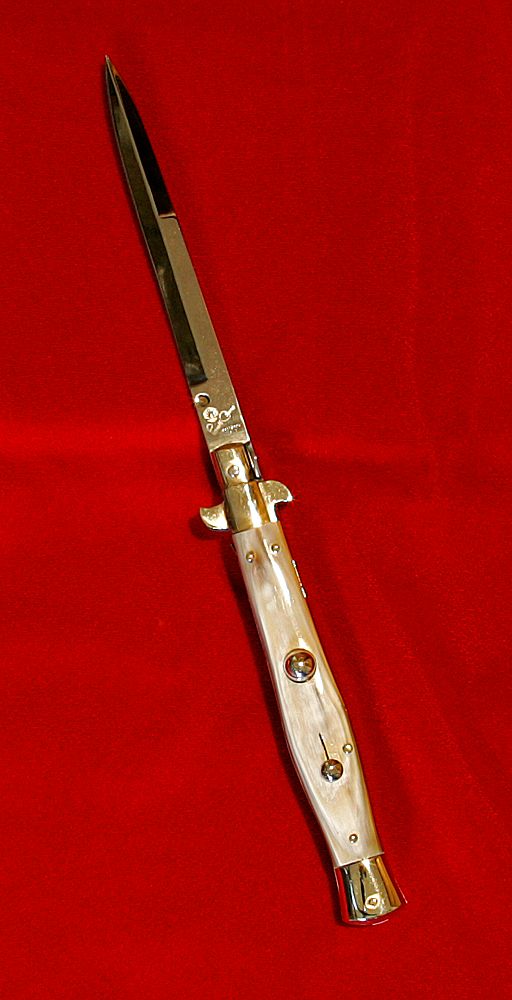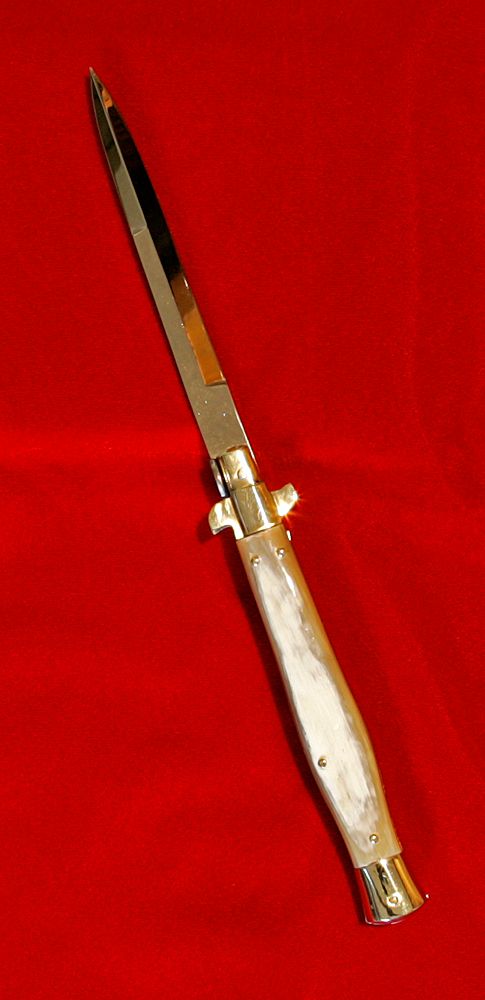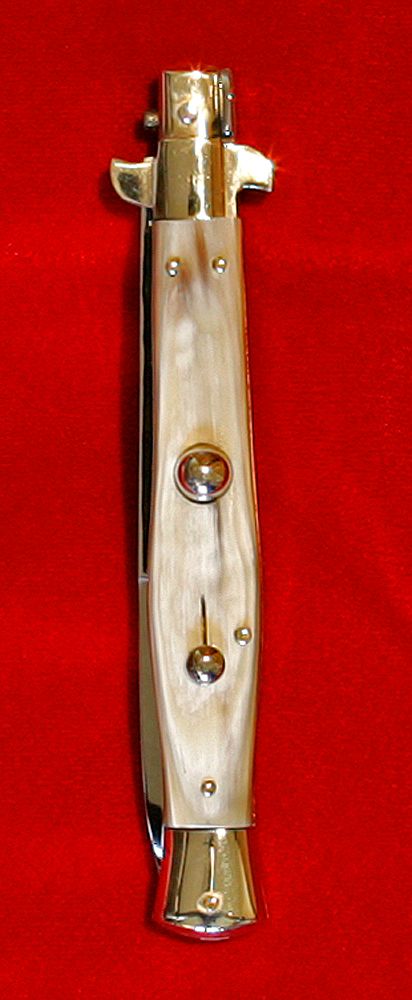 Picked up an 11" BO/BC Stag from the auction as well. I prefer the older stag that's had a chance to darken in age and done by someone who took their time fitting the scales so they don't have to be shaved excessively. I don't have that many in stag simply because I don't like the raw look that shaving creates. Again, in the more modern examples, it appears to me that in many of them the producer didn't take the time to take advantage of the material that was there to produce a more finished appearing product. When done correctly, to my eye, stag can be a really attractive material.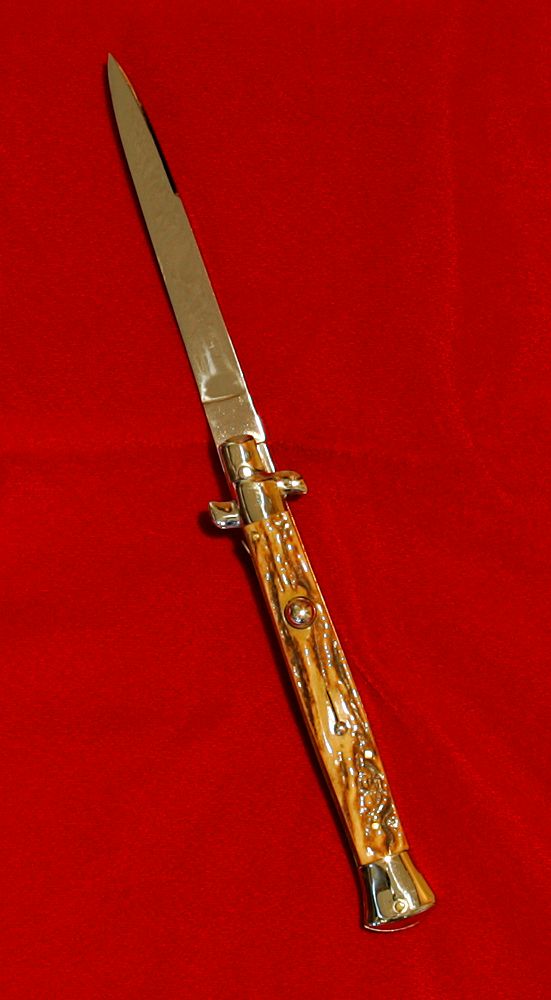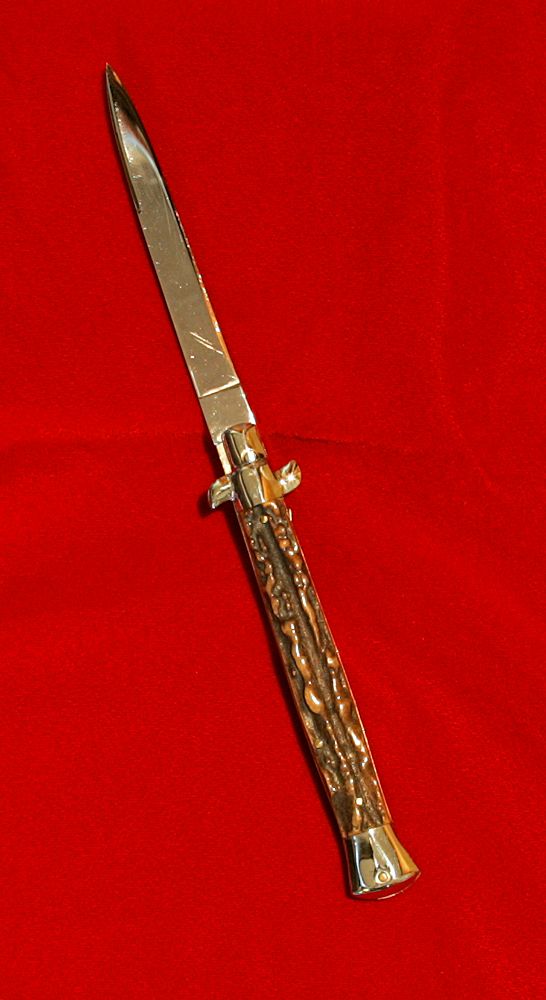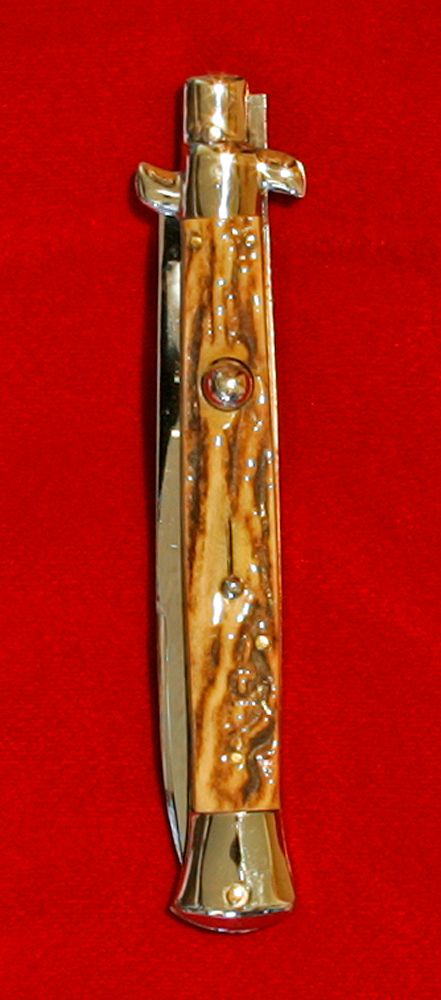 Finally found one that I'd been looking for for a while (I think).
This is a transitional 11" swivel bolster with D stamp liners but a one piece kicker/back spring and a swedge blade grind. I'd like to say it's from the Tarry Levigne house from France due to the Salamander over the word Import on the tang stamp which I understand identified pieces from that producer. There isn't a whole lot published on the producer but I think this is one of theirs.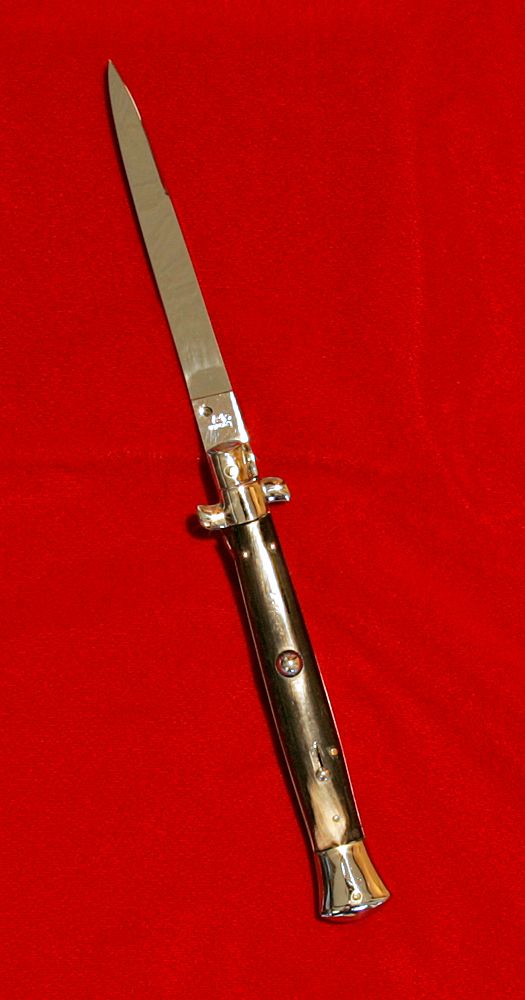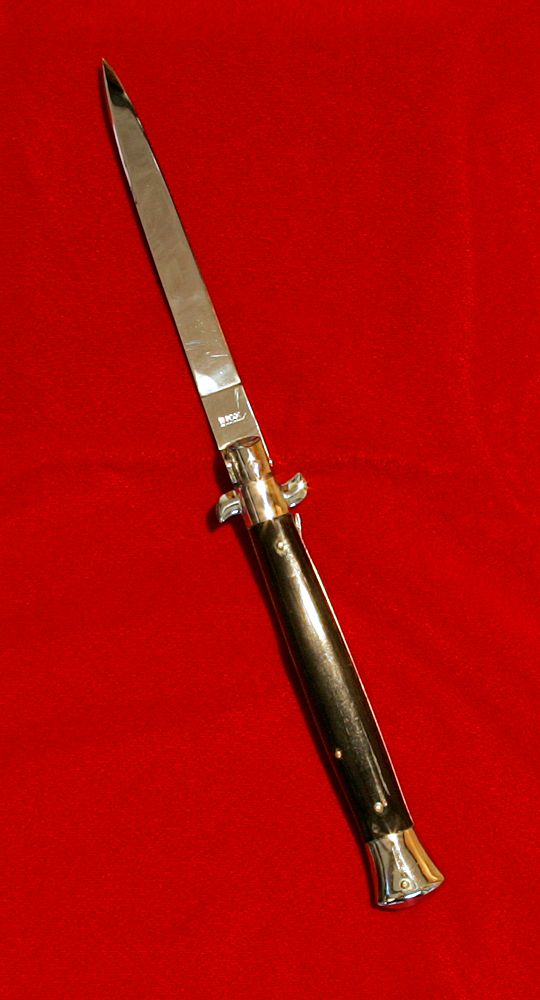 As a side note I don't think I've ever posted this one. I got it from Danny Baily during one of my visits to his place and managed to talk him into selling it to me.( I think my crying might have made him feel sorry for me)
It's a 12" AGA Siciliano done in 5mm which was uncommon for them to make in this style and size.



Lastly I told Dave that I'd re-shoot my oversize tray which includes the Sardinian Lelle Floris. My display trays are set up to take up to 13" conventional stilettos so anything longer than that goes in the oversize tray.
From top to bottom they are:
13" no name swing guard. Another purchase from Danny Baily when I was looking of a 13" swinger to round out my group.
13.5" Renso Pascatto Frosalone from one of his limited runs.
A 15" Swivel Bolster AGA
The Lelle Floris 13+" from Sardinia.
18" AGA Anniversary Swivel Bolster with Damascus blade.
That's about it for the past year for new stuff. As I mentioned there have been a lot of other things going on that have taken my attention away from the pointy shiny things. Hope this year gives me a little more time to spend chasing these critters.
DonC