Recently i bought this rather large & sterile Solingen made scout knife from the '50's or '60's as a modifying project.
The plan is to change the blade from a low saber grind with a buffed to death obtuse edge into a full convex grind with a crisp apex in the region of 30 degrees inclusive.
This would remove the current non-matching grinds on both sides of the blade, make the knife a much better overall user & chopper, and it would also help to make the saw/notcher on the back work a bit better.
Next i'm going to exchange the current miniature guard for a larger and more functional version, give the handle a bit of a palm swell for a better grip when chopping, glue all handle parts in place, and finally treat the leather & fiber washers to a few coats of beeswax.
I will also restitch the sheath as the old thread has dryrotted away completely.
The knife as i received it: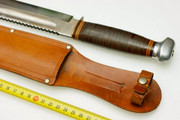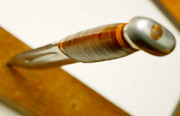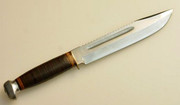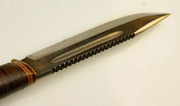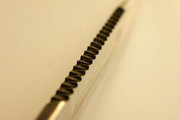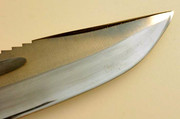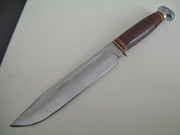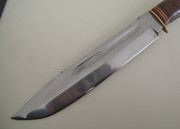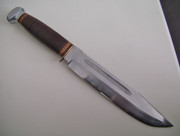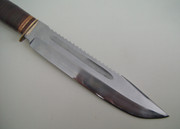 Specs:
Overall length: 34,0 cm
Blade length: 20,8 cm
Blade thickness: 6,5 mm
Steel: hot drop-forged carbon steel
Handle material: brass guard, leather & fiber washers, aluminium pommel
Weight: 384 grams
Sheath: Leather